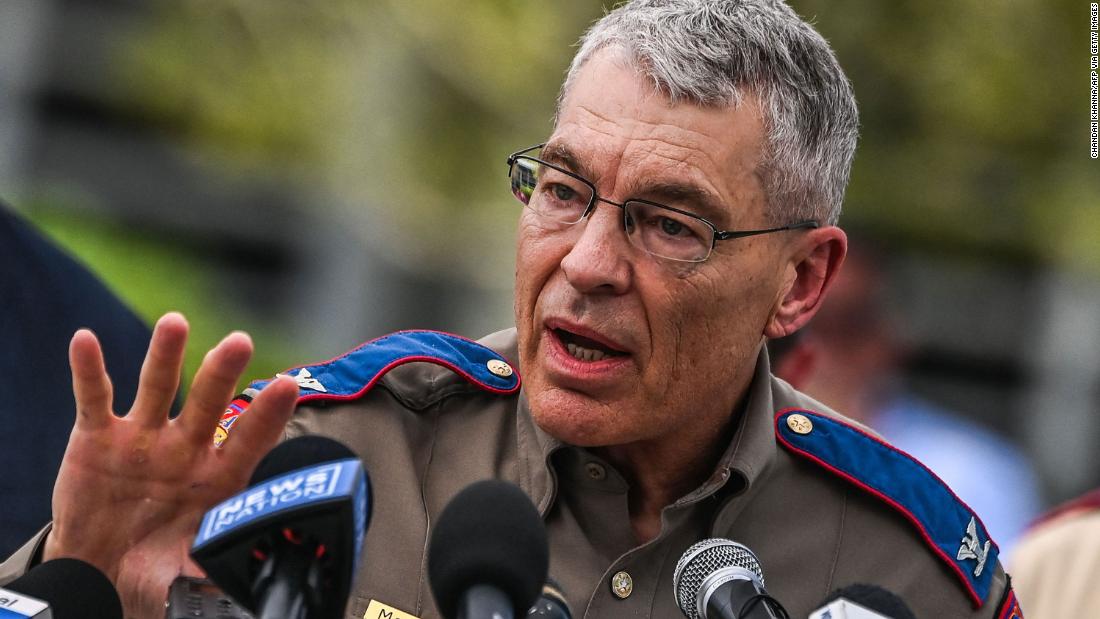 His pledge came after CNN tracked him down and presented him with the minutes of an internal meeting.
But less than two weeks later, at the Texas Highway Patrol Captains meeting on August 15 and 16, minutes obtained by CNN record him saying: Region 3 has done its thing and stepped up to face the moment. "
While confirming much of the information attributed to him in the memorandum, McCraw said he was misquoted about a possible dismissal and that his comments only referred to DPS regional director Victor Escalon. .
"I reviewed his actions and there is nothing he could have done other than what he did," McLaw said. "I have made an order decision. Victor Escalon will not be fired."
It's unclear what actions the officers took to escalate. No one has been publicly identified.
"Release everything"
In an exclusive interview, McCraw blamed the botched response that left the gunman dead for 74 minutes while hundreds of officers from multiple armies arrived on the scene and did not challenge him. He said he would resign himself if he was shown to be in his army.
"First of all, there is no cover-up. The bottom line is to get everything out in the open as quickly as possible," he told CNN ahead of a meeting in Brownsville.
"When we get a chance to talk to you, I'll go line by line from the perspective of which trooper did what… which DPS officer. We'll be completely transparent," said McCloo. "The public will get it. They will have excruciating details about what we did, when we did it, and those gaps."
He promised, "I will resign first. I will gladly resign. If the Public Security Bureau is held responsible, I will submit my resignation to the governor. Period."
When asked if he would meet with the relatives, who still have many questions more than three months after the killing, McLaw said he would. But he added, "I want an answer. I won't have an answer until the inspector general's investigation is over."
"We are not going to give anyone the opportunity to undermine criminal investigations," he said.
Totally stripped of trust
He told CNN that, with the benefit of hindsight, he could have done otherwise, but felt the record needed to be fixed.
"We did the press conference that Friday because we felt it was important and people were impressed … there was a brave and heroic law enforcement response. [and it] It was something else. It was a plain and simple, terrible failure," he said.
The police evacuating the children shouldn't have been celebrated. That job could have been done by the teachers.
And he said the trust between his DPS officers and local departments and agencies has been broken.
"The paradigm is gone," he said, referring to how officers were told it was a matter of barricaded subjects talking to negotiators, rather than armed men with victims.
"I don't believe it unless I'm completely sure," he told CNN.
Implementing new procedures
McCraw said his own officers were horrified when they learned what happened at Uvalde on May 24.
"We are doing a border mission under the impression [it's a barricaded suspect] "I wonder how painful it is for the dead children to be suddenly taken away," he said.
"That's the effect these troops will have to live out the rest of their lives because they were there. And if they knew, they would have been there."
In a meeting with the Captain in August, he said DPS should remain vigilant against large-scale attacks and asked them to share ideas for improving top-down communication.
Earlier in the session, he discussed staffing issues, saying DPS is asking for $466 million to start "a state-of-the-art shooting house that resembles a school." According to the minutes, the total cost of the facilities used for training he will be $1.4 billion.
Although he hasn't spent time with Uvalde since then, McLough said it affected him as well. "It was terrifying. Anyone who was in that building or involved in this in any way will never be the same again."
CNN's Shimon Prokupecz and Matthew J. Friedman reported the story from Brownsville and Uvalde, Texas, and Rachel Clarke wrote from Atlanta.
CNN's Rosa Flores, Eric Levenson, and Andy Rose contributed to this article.
Source: www.cnn.com