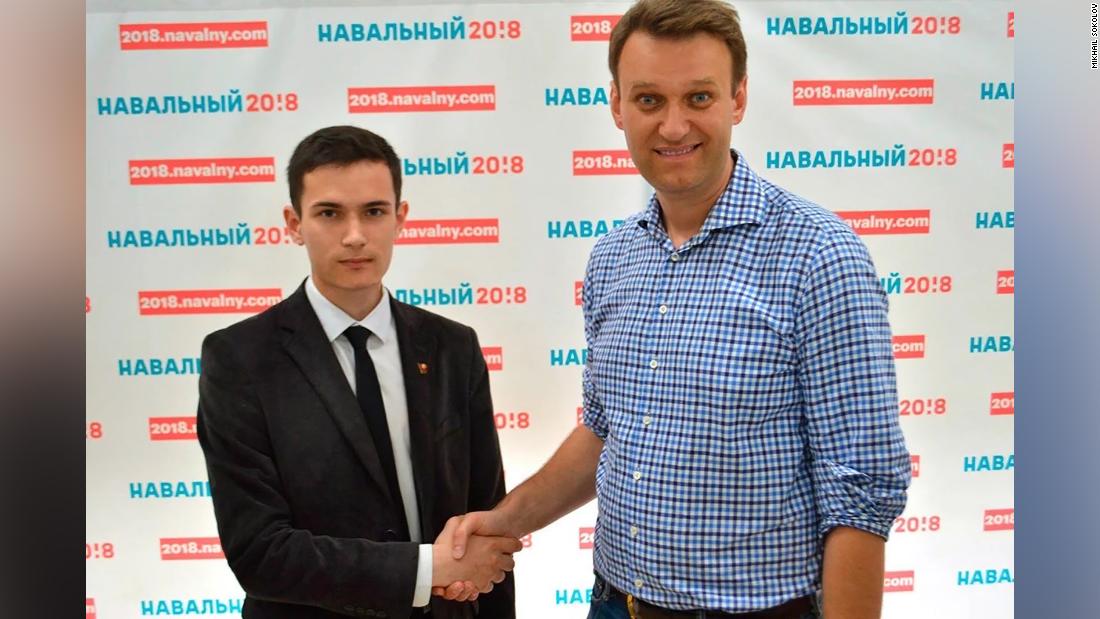 Now he says he is seeking asylum in the Netherlands, roaming the canals of Amsterdam cautiously, telling CNN about his recruitment as an informant, his betrayal of the opposition groups he joined and why he quit. Told.
"If we take their word for it, they really think that the CIA is promoting a revolution in Russia and that Navalny is a CIA agent." Deploying enormous amounts of resources and efforts, they are looking for foreign enemies."
Sokolov's revelations shed rare light on the inner workings of the Kremlin's secret security services, and have since come as part of a series of recent defections from Russia.
Invasion of Ukraine
.
CNN has reached out to the FSB and CIA for comment on this article. The FSB did not respond and the CIA declined to comment. CNN has seen no credible evidence or allegations of US government involvement in the Russian protests.
From student to spy
Sokolov told CNN that he was "a normal 19-year-old student" when he first entered politics in 2016 and joined the Russian Communist Party. Issues such as increasing fares for public transport.
But he also launched his own anti-corruption investigation against local officials, which may have brought him to the attention of the authorities.
"The Russia of today and the Russia of 2016 are two different countries," he said. "At that time you were an activist and you were safe. I am not blind. I understand the problems my country and my people have. I understand life in Europe. I had a motive to make their country better."
But he evaded mandatory military service while he was active, which is how the FSB targeted him, Sokolov says.
"I was called to meet with the head of the army enlistment office, where I met an FSB officer who said they had been following me for some time and agreed to cooperate. , was forced to choose whether to go to prison. Two years."
Sokolov said he was scared of prisons, where allegations of abuse were rampant, and decided a contract was the only way out for him.
Watch Navalny money
Less than a year later, in 2017, Sokolov started volunteering to work with them.
Navalny's anti-corruption campaign
he told CNN. By 2021, he was a staff member of the organization, and key information he shared with the FSB.
At times, the FSB's interests seemed to align with him.
"At the local level, they certainly have an interest in corrupt officials," Sokolov said. "At the national level, they are concerned with who is funding Navalny's campaign. They had the theory that we are being funded by the CIA," Sokolov said. He told CNN that he saw no evidence of CIA funding while working for the Navalny campaign.
As the Kremlin ramps up its crackdown on dissidents in the country, Mr. Sokolov was sent by his FSB handlers to the former Soviet republic of Georgia to infiltrate the growing Russian expatriate community out of repression. It is said that it was done. According to Sokolov, the FSB seemed very concerned that the CIA was recruiting Russians.
"They thought Georgian security services were recruiting members of the opposition under the leadership of the American CIA," said Sokolov, who again saw evidence that this had happened. .
Sokolov said he never believed what the FSB was doing was right and that his work for the FSB was a "huge burden". Still, he served their mission over his five years.
The war changed missions and mindsets
Another young activist told CNN a similar story of forced recruitment and subsequent demands from the FSB.
Vsevolod Osipov told CNN he was a Russian extremist, even though he believed the organization was too small and insignificant to deserve the attention of security officials. was a member of the Liberal Party.
However, after he was taken into custody in May 2021, in connection with previous protests
Against the arrest of Navalny
In exchange for avoiding prison, Osipov, who was only 19 years old at the time, agreed to spy on Russian individuals and groups opposed to President Vladimir Putin's government.
"I had a variety of jobs," he said. "I had to meet certain people. I had to get to know them. For example, Yaroslav Conway, leader of the Russian Liberal Party, and Anton Mikhalchuk, chief coordinator of the Free Russia Foundation in Georgia. "
Again, there was great interest in what, if any, outside involvement from Western intelligence would look like.
"Find out if there is any kind of cooperation with the West, find out what was going on behind the scenes at a particular organization, find out if the opposition works for the US or other foreign special services. There were other more complex tasks, such as doing," he said. .
Mr. Osipov was also sent to Georgia, where he was told to monitor the views of the Russian community, particularly the war in Ukraine and how other countries and non-governmental organizations are helping Ukrainian refugees. said.
"As soon as the war started, the person in charge told me to find out how the community generally felt about the invasion of Ukraine," he said. "The FSB also had an interest in working with Western security agencies and those receiving funds from abroad."
The fear, he said, was always what danger could be to the Kremlin and Putin.
"Russian security services know our country's history well," said Osipov. "When huge immigrant communities emerge abroad, people talk freely to each other, work on projects together, help Ukrainian refugees, basically create a little Russia abroad, not under the control of the FSB. Lenin came to Moscow. We repeat the same thing in 1917 that revolutionized the
"They fear their regime will be affected during this war."
He says he is now speaking to correct his mistakes and possibly protect his mother, who is still in Russia.
"I really want to go home," he said. "I don't hate my country, I hate our government," Osipov said.
Back in Amsterdam, Mikhail Sokolov said the shock of Russia's invasion of Ukraine on February 24 overwhelmed fear of repercussions and forced him to turn his back on the FSB.
"I hate Russia now. I hate everything that has to do with Russia now, the fact that they started a war against our brother country, my brother country," he said. .
CNN's Matthew Chance and Katharina Krebs reported the story from Amsterdam and London, and Rachel Clarke wrote from Atlanta.
Source: www.cnn.com