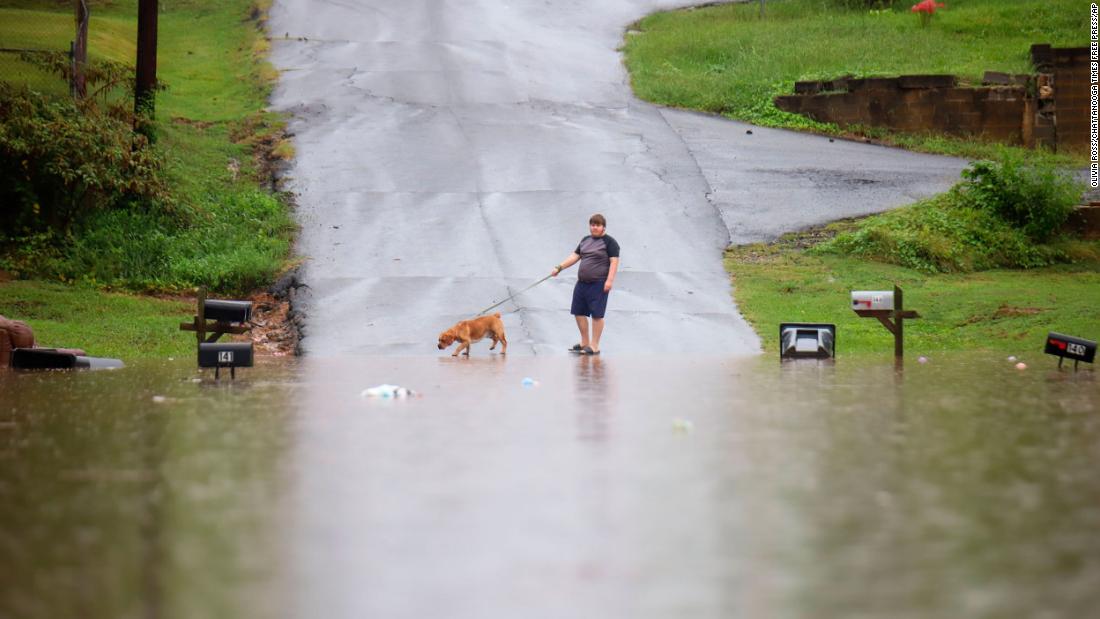 "Showers are starting again in northern Georgia and the chance of rain will continue to increase this afternoon and evening," the National Weather Service in Atlanta posted.
Facebook
"Sporadic thunderstorms are also possible this afternoon, creating concerns of heavy rainfall and localized flooding."
Rainfall in these parts of Georgia was so heavy on Sunday that CNN Weather estimated it to be a 1-in-1,000-year rainfall that reached up to 13 inches in parts of Chattooga and Floyd counties. .
It led to a "devastating flash flood," the weather agency said on Sunday.
Georgia Gov. Brian Kemp declared a state of emergency Sunday afternoon after severe flooding hit Chattooga and Floyd counties.
"Preliminary assessments from county emergency management agencies and the Georgia Department of Emergency Management and Homeland Security indicate a need for assistance in the affected counties," the order read.
The City of Somerville, in Chattooga County, advised residents to boil all water used for drinking, cooking, and preparing baby food after a flash flood occurred at a filter plant.
Schools in Chattooga County will be closed Tuesday and Wednesday. This was because flash floods left hundreds without access to drinking water.
"Without water, we can't flush the toilet, wash our hands, drink from the fountain, or prepare lunch," Chattooga Superintendent Jared Hosmer said in a message to the district on Monday. Stated.
North Georgia is not the only region under threat.A flash flood warning was also implemented on Monday
Alabama to Maine
including a long list of major cities such as Birmingham, Atlanta, Nashville, Louisville, Cincinnati, Pittsburgh, Philadelphia, New York and Boston, affecting over 80 million people.
This year, 1-in-1,000-year rainfall has been recorded in places like St. Louis, eastern Kentucky, and Death Valley.
CNN's Chuck Johnston and Judson Jones contributed to this report.
Source: www.cnn.com