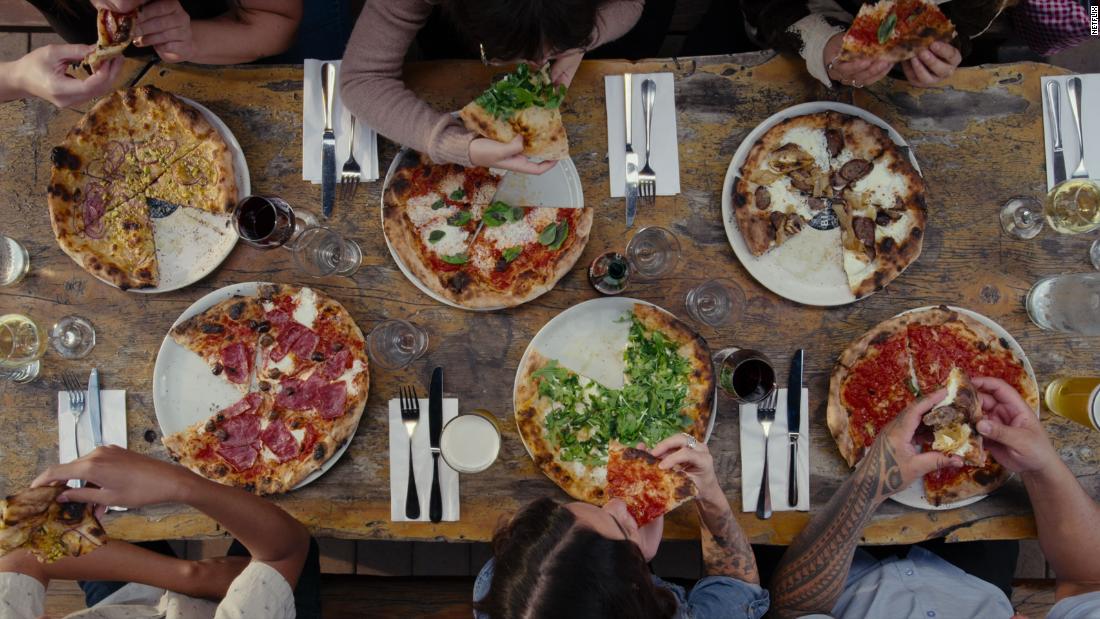 Yes, more movies, TV shows, books, songs, anything with food as the star.
If there's anything I love, I'll produce a show that combines all my loves: history, true crime, food.
Are you listening, universe? In the meantime, let's check out some of what's currently available.
3 things to watch
"Chef's Table: Pizza"
"Chef's Table" is one of my favorite shows on Netflix. Now this documentary series tackles one of my favorite foods.
"From Portland to Phoenix, Italy to Japan, step into the kitchens of chefs. Chefs' creativity turns this mundane dish into an art form with unique flavors, an evocative backdrop and a passion to create the perfect slice." We are raising it to the shape," read a release from a major streaming company.
Can you barely taste it? The six-episode series is currently streaming on Netflix.
"Tell Me Rise"
Do sexy novels spawn sexy series?
We'll take a look at Hulu's Tell Me Lies, based on the novel of the same name by Carola Lovering.
The series follows Lucy Albright (Grace Van Patten) and Stephen DeMarco (Jackson White)'s "addictive tangle" between two college students whose pasts and futures may be connected. increase.
"Lie" is available now.
"Pinocchio"
Come on, CGI!
This beloved fairy tale about a wooden puppet becoming a real boy
undergo special effects treatment
The star power of Tom Hanks, who plays Geppetto, the woodcarver (voiced by Benjamin Evan Ainsworth) who builds and handles the toys as if it were his real son.
Directed by Robert Zemeckis, starring Joseph Gordon-Levitt (voice of Jiminy Cricket), Cynthia Erivo and Luke Evans.
Currently available on Disney+.
two things to ask
"Patient Number 9" by Ozzy Osbourne
If Ozzy Osbourne isn't the actual Prince of Darkness, did he make a deal with him?
Just kidding – at least I think so. Osborne has been through a lot, but he remains unwavering.
His latest album, Patient Number 9, reflects on Osbourne's past struggles and boasts strong collaborators such as Eric Clapton and Jeff Beck.
"Patient number 9" has been released.
"The Legend" by John Legend
Speaking of collaborations, there are a lot on John Legend's new double album.
'The Voice' coach and EGOT winner has received assists on records titled 'Legends' from Rick Ross, Jazmine Sullivan, Jhene Aiko, Saweetie, Ty Dolla $ign, Muni Long, Ledisi and more. I am receiving
In a statement, Legend said, "I have never used part of my name as the title of an album before." And this is what I'm saying: I'm proud of who I am and I'm confident in the work I've done.
"Legend" is also available.
one thing i want to talk about
And I thought Andy Cohen's trying to corral "Real Housewives" would be tough.
Bravo Talk Show Host and Executive
recently shared a video
His family returned from vacation, and his 3-year-old son, Benjamin, was not happy that his vacation was over.
In the clip, Cohen tried to calm a crying child away from the camera.
"Ben, I just watched 'Bob the Builder' for six hours while I was packing the car," he told his son. "I don't want to see any more!"
"Yes," Ben sobbed.
"I want to go back!" he wailed in utter meltdown mode when Cohen informed him they were going home. About being upset, he said, "I'm just kidding."
A lot of people must be related to tantrums and their aftermath. Yes, many people are specifically "Real Housewives".
something to drink
There's nothing Hollywood loves more than comebacks.
Brendan Fraser enjoys "Brenaissance" for his performance in "Whales" (thanks to CNN colleague Melissa Gray for sharing that delightful portmanteau with me. increase).
In the Darren Aronofsky-directed film, Fraser plays a reclusive man who eats to ease the pain caused by his relationship (or lack thereof) with his estranged teenage daughter.
The actor has been hailed for his strong work in the film.


Source: www.cnn.com