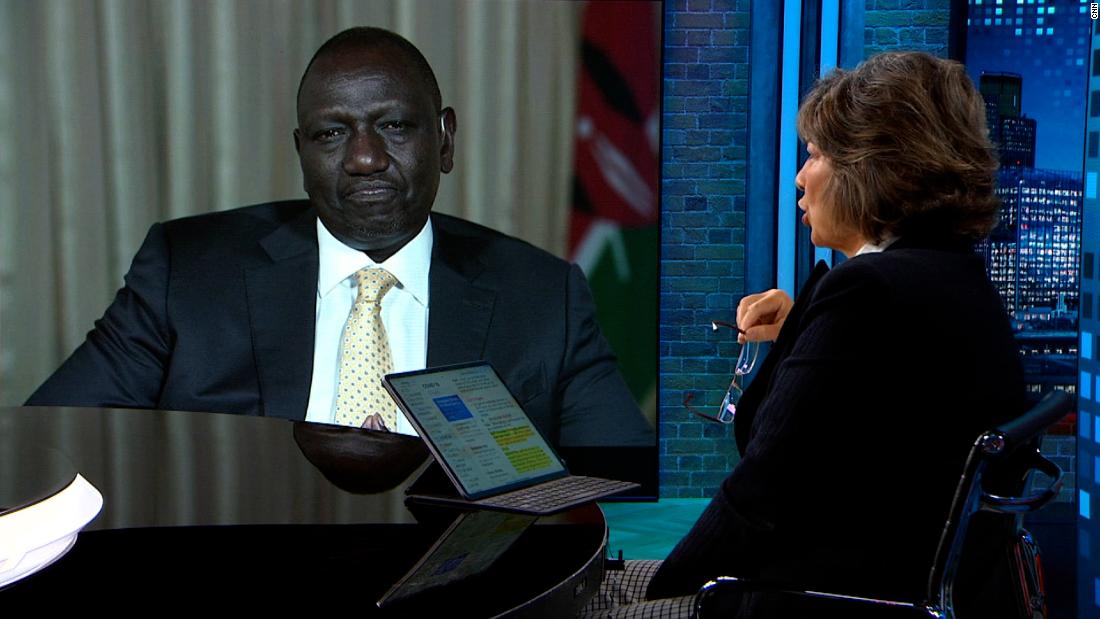 Speaking on the Amanpour show in an exclusive interview Wednesday, Root said he had already reached out to his election rival, Laila Odinga, to build an alliance that would help unite the country.
"The government I am going to run will be one that will serve all Kenyans equally whether they voted for us or not," Ruto said.
Root, 55, won 50.49% of the vote against Odinga's 48.85% in last month's election. The result has come a long way, despite Kenya's recent history of political violence, including the killing of nearly 1,500 of her people in the aftermath of the December 2007 elections.
asked aboute After peaceful proceedings, Root said the situation had improved since 2007 and that the next election would be even better.
"I think it speaks to the maturity of our democracy," he said. "Neither citizens nor leaders want their country to be famous for violence."
"We can go to elections, we can choose leaders, and we can go back to work the next day," he added. "It's the standard we hold as Kenyans and I'm very proud of it."
Amanpour later asked if outgoing President Uhuru Kenyatta, who supported Odinga's bid for election despite Ruto being vice-president, had been in touch since the election.
"Unfortunately, President Kenyatta is unfit to congratulate me," he said. Maybe, but that's the nature of politics."
Many world leaders were among those who contacted Root, who said he told them not to expect "major changes" in Kenya's foreign policy.
"I intend to expand Kenya's participation in many areas, especially in our regional peace initiatives," Root said.
"I am available and I will do my part. I will expand Kenya's standing and contribution in that field so that together we can contribute to a better and more peaceful region."
One of those challenges is Somalia. Somalia has had longstanding security problems and is now facing famine.
"Somalia is a difficult country to divide," said Ruto, who said he had worked with the country's newly elected president Hassan Sheikh Mohamud in the past.
"I look forward to working with him and the international community to resolve Somalia's challenges and enable Somalia to address its own security concerns," said Ruto.
No "blame game" in grain blockade
Humanitarian issues are also on the agenda, with Root telling Amanpour that he will work to resolve the conflict in Ukraine peacefully to ensure that more grain shipments from Ukraine reach East Africa.
Ruto said he planned to increase grain production both locally and regionally, although he refused to blame Moscow for the grain shortage.
"I don't think the blame game helps that equation," he said.
Amanpour later questioned Root about human rights, particularly his earlier comment that there was "no room" for homosexuality in Kenyan society.
"We respect everyone and we respect what they believe, but we also believe in something and we want to be respected for what we believe. We are looking forward to it," said Ruto, an important topic for Kenyans.
"We don't want to build mountains out of molehills," he said, adding that he prefers to focus his efforts on unemployment and hunger. will do."
Amanpour also pressed Ruto over his controversial promise to deport Chinese from Kenya, but the president-elect claimed he was taken out of context.
Ruto said he was referring to Chinese people working without a permit.
"Everyone will do business and do whatever they want as long as they do it within the law," he said.
"People who operate outside the law don't care where they come from. They are sent back from where they came from."
Source: www.cnn.com