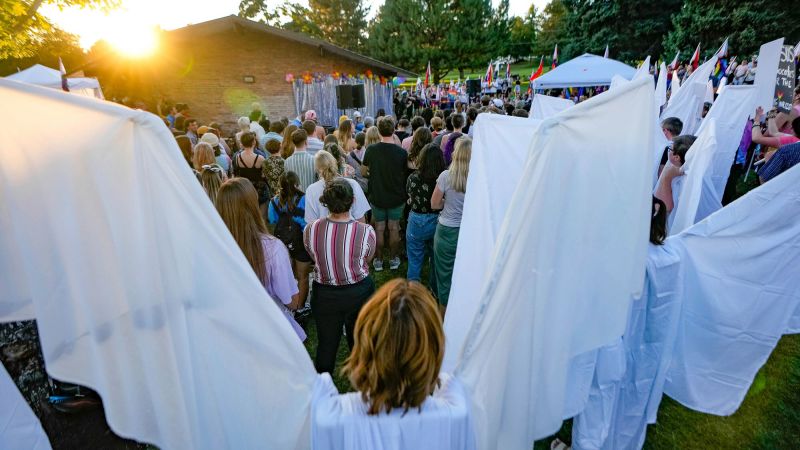 CNN
—

Classes at Brigham Young University are just beginning, and queer students are already learning about their complicated relationship with private religious schools.
Last weekend, LGBTQ students, alumni and friends ran into dozens of protesters as they gathered at a park in Provo, Utah, for a back-to-school event. Some were openly holding handguns, while others were holding signs that read, "God hates gays," and shouting, "There are no gays in heaven."
But soon, 12 people wearing three-foot-long "angel" wings are defending pride event attendees against hate and supporting LGBTQ students over those who oppose them. It showed that there were more people.
"When I saw an angel, it was more than just an angel to me. It was this way of embodying and refuting the claim that God hates gays," said the 23-year-old BYU student. said Madison Tenney, one of the organizers of the event.
Tenney said the angel wings helped "queens and kings" who were performing at the protesters and kept "queer children" safe. Most of the protesters left before the show ended, she said.
Organizers are anticipating large numbers of protesters for weeks to come, and have made sure that everything from the costumes to the music played during the event to the drag show is family-friendly and does not violate church policy. I was sure, Tenney said.
"We want to give both our side and those who oppose us the same kind of freedom that it's not so scary, it's family-friendly, and they have freedom of speech. Tenney, who created the RaYnbow Collective, a nonprofit off-campus group that supports LGBTQ+ students at colleges, said: He said:
Provo Police Department Sergeant. Shad Lefevre said there were about 100 protesters, including members of his BYU Conservatives student group and at least he one other conservative group. Neither have any affiliation with the university. Ahead of the event, Lefebvre said the BYU Conservative Party urged community members to join the protest and met with police to discuss local laws.
"Their messages were very contrasting, but they both had messages they wanted to share," said Lefebvre.
Lefebvre, one of six police officers assigned to keep the event peaceful, said there were "bumps and pushes" but the confrontation eased and did not turn violent. .
LGBTQ students have long described their experiences at The Church of Jesus Christ of Latter-day Saints-owned universities as incredibly complex.
For years, queer students have been unable to identify themselves for fear of violating the university's student ethics code, which is based on LDS principles.That changed in 2020, but the Honor Code still prohibits them Date in public, hold hands, kiss your partner.
Last year, student complaints prompted the U.S. Department of Education's Office for Civil Rights to launch an investigation into whether BYU was treating queer students differently. However, in January investigation denied Federal officials cite religious exemptions for BYU and other religious colleges.
and Survey sent to BYU students In Spring 2021, approximately 8% of the 13,451 students who completed the survey identified themselves as gay or lesbian, bisexual, or of another sexual orientation.
In the survey, 74% of all respondents said they had experienced or witnessed "derogatory remarks towards LGBTQ+ people."
Students and allies have found ways to support each other despite the university's strict rules. Faculty and staff advocate for queer students and defend them when someone utters homophobic language in class, Tenney said.
Although queer student clubs are not allowed on campus, BYU student groups The USGA is also known as Understanding Sexuality, Gender and Allyship. We held weekly meetings in different locations to provide a "safe space for open, respectful conversations about LGBTQ and SSA topics." According to the BYU website, the group is an "unofficial" group and has "never been an official club" of BYU.
Late last month, the university removed a brochure with off-campus resources for LGBTQ students from the welcome bags it distributes to new students.
Tenney said she signed a deal with The Daily Universe, the BYU newspaper that distributed the welcome bags, to distribute 5,000 flyers promoting back-to-school Pride Nights and copies of the community's guide to LGBTQ+ resources. The organization paid and signed.
"Every student deserves to be better, and BYU should lead in all Christian education, kindness, love, and inclusion," says Tenney. "And if we follow the example of Jesus Christ, nothing can stop our desire to support education and involve others."
BYU spokesperson Todd Hollingshead told CNN that the university has decided to remove some material "from non-university bodies."
Hollingshead told CNN, "The decision to remove the material by student life was based on the university's commitment to providing support through its office and our counseling services, and that an outside organization was not involved with the university. We do not allow any suggestion of affiliation with or endorsement of."
Hollingshead said the Daily Universe is currently "reviewing its ad content approval process," and that those involved in advertising for the resource have been reimbursed.
Twelve people, including parents, alumni and community supporters of queer BYU students, dressed up as big-winged "angels" to separate groups when protesters surged in numbers at last weekend's Pride event. said Logan Bushman, creating a barrier for , a recent BYU graduate who made wings.
Similar angel wings have been made many times since 1999 when Romaine Patterson created a peaceful sign to stand up to hatred and honor Matthew Shepard, a gay college student who was beaten to death in Wyoming. has been used. nation.
For Bushman and Tenney, it was touching to see people wearing angel wings. They said it was a rare display of love in public because of the large amount.
Source: www.cnn.com