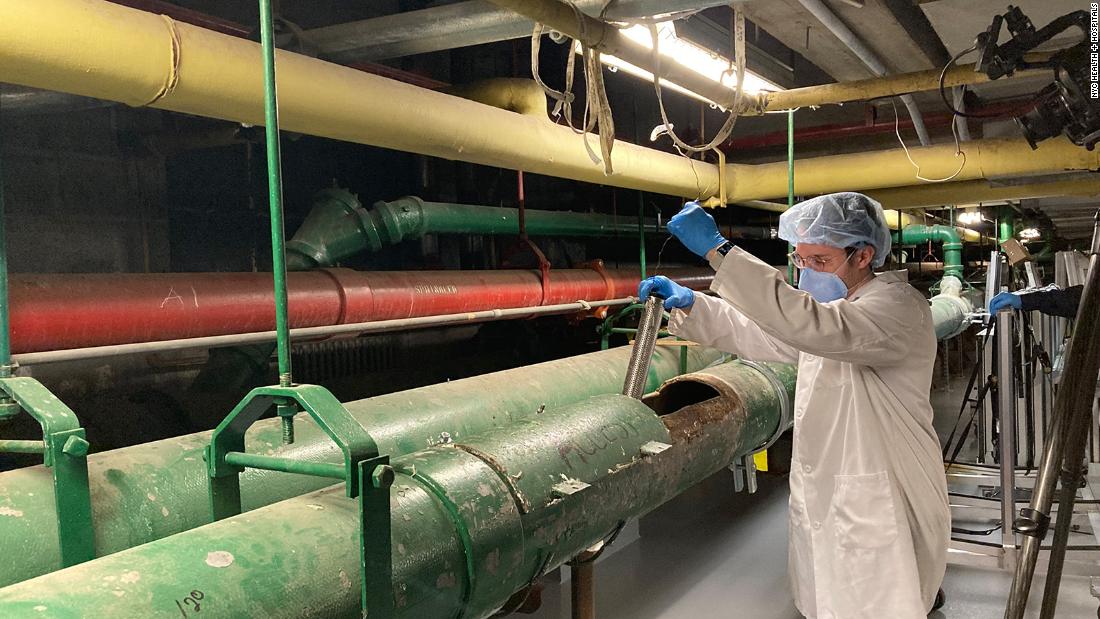 Several disease detectives in the United States are narrowing their wastewater monitoring efforts to focus on specific buildings and identify hotspots on the growing list of diseases.
"Some of the wastewater monitoring is done at the community level, and some is done at the building level. said Lori Tremmel Freeman, and city health authorities.
"For example, in some of our jurisdictions, we monitor large hotels and prison environments," she said. can be sent."
A building-level wastewater monitoring approach is underway at all 11 hospitals within New York City's NYC Health + Hospitals integrated care system.
"With rapid testing on the rise and federal funding for the Covid response down this spring, wastewater testing has become an affordable, easy way to track the presence of Covid in our communities without requiring patients to be tested. "Now that monkeypox and polio have arrived in New York City, we are testing for these viruses," said Mitchell Katz, president and CEO of NYC Health + Hospitals, in a statement. , we have a system in place to use that data to inform our response."
"Good secondary backup"
Health system surveillance program to identify Covid-19 and influenza viruses in NYC Health + Hospitals/Elmhurst hospital wastewater at least two weeks before viral infections are clinically identified among hospital patients It was a success, said Leopolda Silvera, vice president of global health at NYC Health + Hospitals/Elmhurst.
Using wastewater test data, "we were able to tell about 10 to 14 days before a patient was going to show symptoms," says Silvera.
"People are shedding the virus when they use the toilet," she said. And it shows when people start showing symptoms after 10 to 14 days."
Silvera explained that wastewater monitoring data gives clinicians warning signals of potential increases or decreases in disease. This helps inform efforts towards disease prevention or treatment, and helps to surge staff and supplies to meet needs.
"If you can get a test directly from a patient, like a Covid test, that's the primary way to treat the patient population and find out what's going on," she said. Having wastewater monitoring is a great secondary backup for us to know what is going on in our community and be able to plan accordingly."
Seeking understanding of sewage systems
"The reason wastewater monitoring works so well is that everyone in the community is providing samples to the sewer system every day," she said. and depending on the location, even one city may have several factories covering different parts of the population."
Of course, monitoring at the building level such as hospitals is also possible.
Sampling wastewater at various levels within a community "from the highest-level treatment facility to individual buildings," Wolfe said. "Within the sewer network, there is also an intermediate level."
Since then, wastewater monitoring has been used to track infectious diseases on a global scale, but before the advent of Covid-19, the technology was far from mainstream. It's the first respiratory virus to be tracked, Wolf said.
"That investigation by Rockefeller was very well done, but most of the investigation was completed before the Omicron investigation surged. It was a time when we anecdotally saw a significant increase in interest in data as a source of truth," said Wolfe.
She hopes that wastewater monitoring will continue to be available as a public health tool.
Based at Stanford University and completely separate from the CDC's system, the WastewaterSCAN initiative was launched in November 2020 to scan sewage samples for SARS-CoV-2, the virus that causes Covid-19. Since then, the program has expanded to monitor more sewage plants and track more pathogens.
As of last week, the initiative, which includes partnerships between universities, nonprofits, and research firm Verily, had confirmed that the coronavirus and its BA.4 and BA.5 variants, as well as monkeypox, would kill 48 people across 16 states. Overseeing treatment facilities. Influenza A and respiratory syncytial virus.
If a new threat emerges, it's "relatively easy" to quickly test what the threat is using wastewater samples from the initiative, Wolfe said.
"That's what we were able to do against monkeypox recently, and it was very exciting because we were able to deploy it so quickly. Many places, including Atlanta, have monkeypox DNA. We started monitoring very early in the outbreak," she said. "That's the advantage of having this kind of population-level network that allows us to talk about overall trends in infectious disease outbreaks."
"If you don't look for something, you can't see it"
At a time when it's critical to monitor pathogens not commonly found in the United States, such as polio and monkeypox, wastewater monitoring has proven useful, says Danielle B., co-chair of the American Association of Pathologists and Microbiologists. Dr. Rose said. Committee.
Clinically, the United States "stopped testing for polio because it was polio-free. We never tested for monkeypox because it is a zoonotic disease in endemic areas of Africa. Therefore,1 I didn't even have to worry about the day, said Rhoads, who is also a pathologist at the Cleveland Clinic in Ohio.
But wastewater monitoring "opens our eyes, whether it's in medicine, public health, or society, to make us realize that we have to look for something to see," Rhoads said.
Source: www.cnn.com