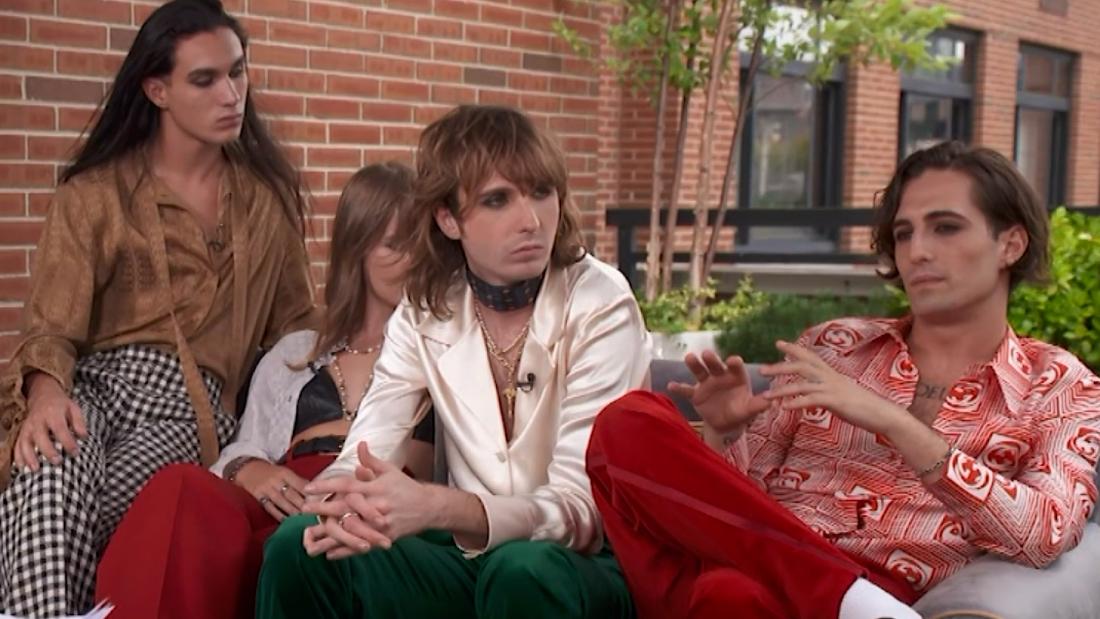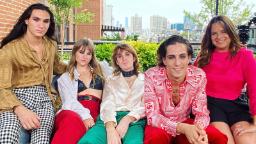 In 2021, the band, consisting of vocalist Damiano David, bassist Viktoria De Angelis, guitarist Tomas Raghi and drummer Ethan Tokio, won Eurovision, Europe's largest singing competition. Since then it has not stopped.
They had three number one hits on Billboard's rock chart this year. Here are his viral covers of Frankie Valli's 'Beggin', 'I Wanna be Your Slave' and 'Supermodel'.
They were recently nominated for two MTV Video Music Awards, including Best New Artist. They stopped by "The Tonight Show With Jimmy Fallon" and headlined "Saturday Night Live."
Just a year ago, the four rockers were little-known musicians playing on the streets of Rome, competing with other street performers for the most-attracting corner spots. Now, engaging an audience is as easy as announcing your next concert.
Earlier this month, they played to a sold-out 70,000 crowd at Rome's iconic Circus Maximus and were invited to some of the biggest music festivals in the US, including Coachella and Lollapalooza, making their first appearances this year. Sunday.
This fall, they will embark on their first world tour, touring the United States, Europe and Latin America, with tickets selling quickly and dates extending through 2023.
CNN correspondent Maria Santana catches up with Mannequin in New York City before performing for a small, intimate crowd at New York's House of X as part of Sirius XM's Small Stage series. , talked about their meteoric rise to fame, their humble beginnings, the next stop on their world tour, the 'King of Rock and Roll' Elvis Presley, and why they stand up for the Ukrainian people.
Conversations have been edited for length and clarity.
The first thing I would like to ask is how do you pronounce your band name?
Everyone: Moana skin!
Santana: I listen to Man-Eh-Skin all the time.
Victoria de Angelis: Yes, everything is fine.
Santana: So, Moan-A-Skin?
Thomas Raggi: Moan-A-Skin is perfect.
And what does maneskin mean?
De Angelis: It means moonlight. I had to enter this music competition and I didn't have a name yet, so I chose it when I started playing.
Looking back on last year, I think it was really crazy, from a year ago to now.
Damiano David: Yeah, it's been a crazy journey, but of course I'm really happy with everything we've done and every time I look back I'm so happy and proud of every step.
What has been the most surprising and perhaps most exciting event of the past year?
Ragi: We have had many wonderful moments this past year. Of course, the song with Iggy Pop is one of them, playing with The Stones. I mean a lot, it was a lot.
Now, with stadiums filled to capacity of 70,000 and tickets sold out of 80,000, you said that even finding a place to play in Italy is very difficult. What was it like when you started?
De Angelis: Rome doesn't have a real rock scene, no clubs want bands to play their tunes, people aren't really used to going to gigs by up-and-coming artists, so it's very It was hard.
It was really hard because they only go to the famous places they know, so I started performing as a busker on the streets. We were always competing with other street artists for the best spot, but we couldn't win.
How has Eurovision changed your life since then?
David: I think that was the first point of contact outside of Italy. From that moment on, we were based on a project intended only for Italy and Italy, but that was the chance to expand to Europe and from Europe to America. We hope to grow more and more.
How was Italy's victory? It's been almost 30 years since Italy won Eurovision, but did it win in a not-so-big genre of rock'n'roll?
Raggi: Yes, it's crazy.
David: I think it was unexpected for everyone.
De Angelis: Yes, everyone was very proud and it was a big celebration.
Oftentimes, Eurovision winners have big moments and then disappear. What do you think makes you different that has allowed you to achieve so much and become this global phenomenon?
David: I think Eurovision came at the right time for us. Because the album had just been released. What we brought to Eurovision was basically just another album in its entirety, fresh and very authentic. for us. So I think people were happy to find a lot of consistency between what we brought to Eurovision and what they saw in the catalogue. It's just one of their songs, then two albums, and it all makes sense.
He then released "Beggin'", which was the most successful rock song of the last year. I mean, I woke up every morning and this past year of him (singing) 'Please, please'… (laughter)…that came to mind, and then I Now get out!
David: Yeah, it's our fault, it's our fault (laughs). Well, we didn't even promote it, so it's not our fault either, it's TikTok's fault. It just went viral. We were pretty shocked by that. When we saw it growing, we knew what was going on and it was viral on TikTok, and then it all happened.
why that song? This is a cover of Frankie Valli and the Four Seasons, and I can't think of a different style than you and the Four Seasons.
De Angelis: I actually played it when I was just starting out, but I find it much more challenging and fun to do covers of very different songs. So, for example, right now we're also playing Britney Spears' "Womanizer," which is challenging, exciting, and something you can interpret differently and make it your own. I think it's time to do something good.
You also covered "If I Can Dream" in the Elvis movie. What was it like singing Elvis' song?
David: Whenever I make a big deal, I try not to think too much. When I had the chance to play an Elvis cover, I didn't feel like I was confronting Elvis. Because it was impossible to fight the legacy of Elvis. We were so happy, so happy, so honored just to have the chance to play one of his songs, because of course it's out of our hands.
You currently have two VMA nominations and your third No. 1 on the Billboard charts, "Supermodel." Can you tell us about this song?
De Angelis: It's funny, everyone thinks it's about supermodels, but it's not. We wrote it like three months in LA where we met a lot of people pretending to be supermodels and superstars. It wasn't about who I am or who I really am. Everyone was trying to pretend that they had the best clothes, the best friends, the best clubs, that kind of thing.It's a stereotype, but when I actually saw it I just thought it was funny, so it's funny about that I wanted to make a song.
I can say that in New York there is no such person. we are so real If you could make a song about New York, what would it be about?
De Angelis: Oh… (laughs)… I need to spend more months here.
David: It's like a club song, very dirty, clubbish… (laughs).
You've performed at various festivals, including Lollapalooza in Europe, and this weekend you'll be performing at Lollapalooza in Chicago. What does it mean to play at Lollapalooza here in the USA?
Raggi: Crazy, huge.
De Angelis: It's the first festival in America. So it seems like such a big deal…
David: It's not the first festival! We played at Coachella. … (laughter).
De Angelis: Whoa, that's true, Coachella. The festival season, which started this summer, has so far only been held in Europe, so this summer will be the first.
Raggi: Yes, in the summer.
You sing in English and Italian, but in Latin America there are many famous Italian singers and they sing in Spanish – Laura Pausini, Eros Ramazzotti, Il Volo – you think you sing in Spanish. do you
David: Why?
De Angelis: In Spanish?
David: I basically listen to a lot of Spanish music, so I'm not going back… (laughs).
You start your tour and go to Latin America, Santiago and Buenos Aires. What's it like to go to all these places? Any culture shocks when you do?
David: Well, I've never been to anyone other than Ethan, I've never been to Latin America, and I've never played there. It's really crazy… (laughter) … hyped, heated, we like this kind of crowd. So I can't wait to play there and it was one of the places that surprised me the most. When I saw the tickets for sale, I was like, "What the hell?" How did you get there? It was crazy and I really can't wait.
How has fame changed you?
De Angelis: I don't think it changed us.
David: Actually, I'm not too worried. I guess it's stable… (laughs).
Do you feel that being famous entails a responsibility to speak out on certain political issues? Many artists say that they are entertainers, not politicians or activists.
De Angelis: Yeah, I think it's natural for us. So I think I know enough about the topic, I think opinions can make a difference, and I think things that I don't feel pressured or pressured about. Something. It is natural and we are happy to do it. Also, if we can share a positive message about something that really matters to us, we are more than happy to do it.
You sang the song "We're Gonna Dance on Gasoline" in support of Ukraine. What are your thoughts on the situation?
David: It's really hard to say because we feel very bad about it, but we also know that we have great privilege. So we are privileged, but of course we are more than happy to spread the knowledge about it. Because that is what is happening today. valuable.
One of your first songs was 'Zitti E Buoni', which means 'behave in silence'. You guys don't seem to be shutting up or acting out any time soon.
De Angelis: No, not at all.
Where do you go from here?
De Angelis: I don't know. we feel so free We just want to keep playing. We have a lot of great gigs and tours ahead of us and we really want to enjoy it and take as much inspiration as possible from it and turn it into music. We don't want to set specific goals, but we just want to see what happens, keep improving, and do what feels right.
CNN's Marysabel Huston-Crespo contributed to this report.
Source: www.cnn.com